Even though hurricanes typically do not significantly impact our area, there are times when they do and it may be worthwhile to keep aware of hurricane developments.
Using amateur radio is one way to keep aware with the Hurricane Watch Net on 14.325 MHz. There is also a Hurricane Watch Net web site that has an amazing amount of information available. Along with keeping informed, be ready with fully charged hand-helds, a full tank of fuel for your vehicle, if you're lucky to be high enough where flooding risk is minimal consider the possibility that you may be out of electric service for a while.
There is also more information to avail yourself at the National Weather Service/NOAA websites to be able to keep updated with the latest conditions and forecasts for the hurricane. The following sites will help you stay informed:

http://www.weather.gov/
http://www.nhc.noaa.gov/
http://water.weather.gov/ahps/
Posted in cooperation with the Quad-County Amateur Radio Club, a Weather Ready Nation Ambassador.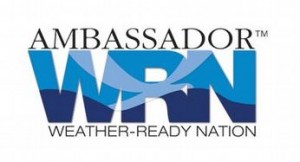 "Weather-Ready Nation Ambassador™ and the Weather-Ready Nation Ambassador™ logo are trademarks of the U.S. Department of Commerce, National Oceanic and Atmospheric Administration, used with permission."